THE COMPETITIVE EDGE: Why Your Business Needs SEO
With almost 3 billion local online searches performed each month, and over 95% of visits to a website coming from the first page of search engine results – it is critical for your business to get noticed and increase your website's ranking on search engines.
DWMG offers highly targeted and hands-free ways to ensure your website gets to the top of search engines and stays in front of your customers. Our goal is to make sure you never miss a business opportunity by not being found!
DWMG's SEO service is the most cost-effective way to drive targeted traffic to your website. We get you on the 1st page listings on Google, Yahoo! and Bing – Guaranteed!
How DWMG's SEO Service Works.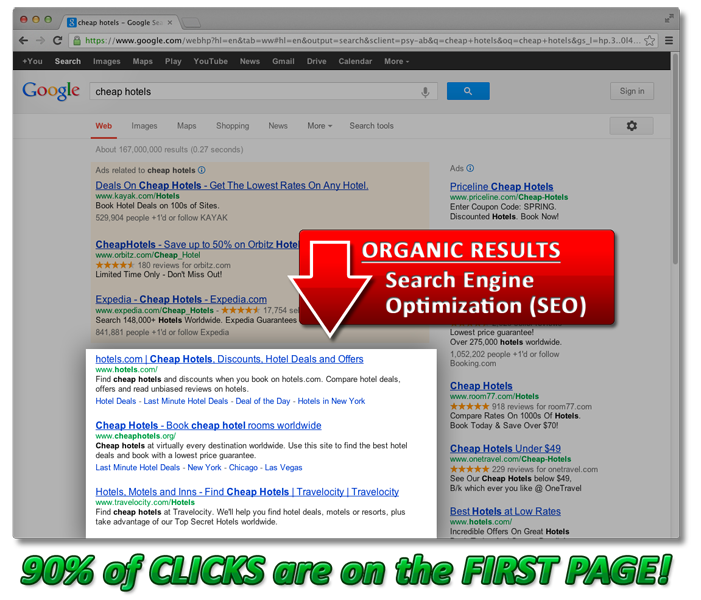 DWMG SEO service also includes the following:
Manual submission of your website to the major search engines; following the guidelines of each.

Submission of your website to smaller search engines using state-of-the-art, proprietary automated software.

Submitting your business to local search engine directories.

Consistently monitoring the activity to your website with daily analytics.

Providing you with weekly reports of your ranked positions and traffic.
Our SEO service gets your website top-ranked positions in the "Organic" result listings. DWMG SEO service is White Hat SEO service; meaning we use ethical strategies, techniques and tactics that completely follow the posting rules and policies of the search engines. This provides our clients with greater results through proper optimization and relevancy built upon quality.
DWMG's SEO method combines link building, directory submission, article writing, press releases, and social bookmarking. The main contributing factor in the quality of results we can achieve for our clients comes from the way we research and apply keywords. Simply put, we choose specific keywords that will get your website ranked in the highest positions possible, gaining you the greatest amount of traffic in the quickest amount of time.
DWMG SEO RESULTS!
These DWMG clients achieved 1st Page Rankings on Google, Yahoo! and Bing in the 1st Month of SEO Service:
Why DWMG For Your SEO and SEM Service?
Quality
We guarantee our SEO or SEM services will get your business website on the first page of the major search engines or we will refund your money.
Monthly costs for our SEO or SEM services start at less than what your business would pay to run a 1-time, 4-inch black and white ad in a regional newspaper that will only reach a fraction of your potential customers as compared to online searches made in a single month.