DWMG Text Marketing service generates very impressive ROI and is AMAZINGLY affordable. When used as a marketing tool, text messaging is extremely effective. This is due to the sheer number of people who use texting and the actual impression rates – 97% of text messages are read, usually within 3-5 minutes after being received. Most of our clients receive a 20-30% redemption rate on text coupons and offers!
How It Works Is Simple.
Step 1: Send a text message:

• Using the Mobile Keyword as the
message.
• Sent to the Short Code number.

Step 2: Receive text response instantly.
Simply include your Mobile Keyword and Short Code on your advertisements and marketing materials as the direct response action. Text Marketing will start working for your business instantly – 24 hours a day, 7 days a week.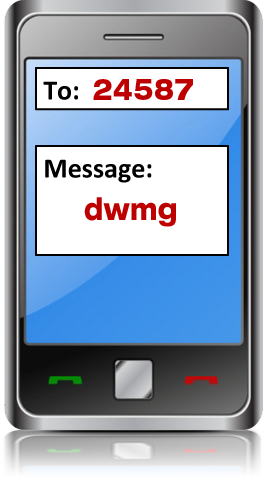 Text Marketing can be used to send:
Discount Offers and Coupons

Sales or Promotions Announcements

Product or Service Information

Business Phone, Address and Hours

Event Details, Date and Times

Any Short Message You Want!
Text Message Marketing is permission-based; meaning your customers opt-in to receive text messages from your business. Because your customers opt-in, you will receive a much improved response rate with Text Marketing verses other un-solicited marketing methods.
Along with QR Codes, Text Marketing is also an effective way to build your client list. Customers' mobile numbers are stored in your contact database for future Text Marketing campaigns and promotions. It's a simple and instant way for your business and customers to connect.
How Big is Texting? Everybody Texts!
Text messaging, also known as SMS, has been around for over 20 years. Since its inception, "texting" has become a preferred method of communication in the United States, even surpassing email in usage. Over 2 Trillion text messages are sent and received every year in the US – that's over 6 Billion per day! The average text messaging user sends or receives 35 messages every day. Text Marketing is the original form of Mobile Marketing.
DWMG will help your business harness the power of text messaging, and implement Text Marketing as part of your strategy.