Re-Targeted Display Advertising Has Created a BOOM of Success for Businesses
Retargeting brings people, who left without converting or making a purchase, back to your website and turns them into customers. When an online shopper visits your site, and for whatever reason decides to not make a purchase or act on your call-to-action, retargeting keeps your business in front of them as they browse other sites.
Businesses in several industries have achieved significant improvement in the conversion of shoppers into customers with retargeting. Large and small companies in the automotive, telecom, customer service and financial industries have seen major gains in sales. Retargeting can convert 70% of site visitors who left, bringing them back to complete the transaction.
There are two things that lead to successful online marketing: Increasing website traffic and Retargeting. DWMG can help businesses of any size to improve their online prospecting with our effective SEO service. Combine an increase in visitor traffic with the effective conversion rates of retargeting, and your business can attain the winning online presence that all businesses seek to establish!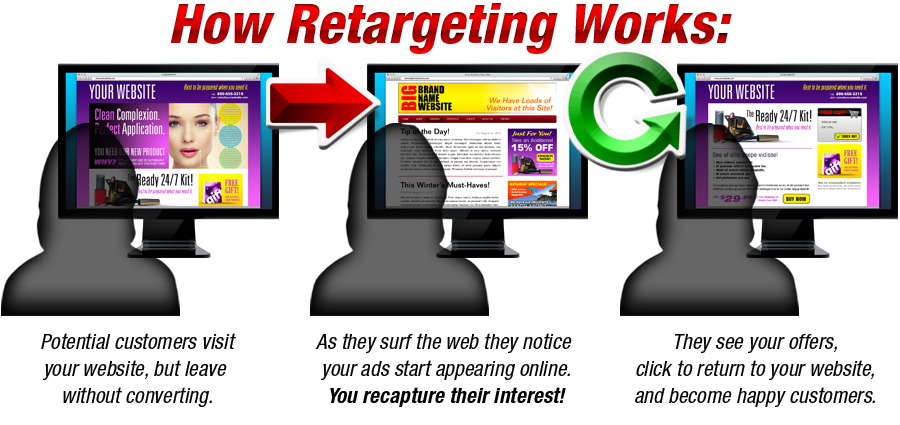 Target Interested Customers! Retargeting is Smart-Advertising.
DWMG Retargeting Features Include:
Efficient Pricing

No-Minimum Spends

No Contracts

Facebook Retargeting

Customer Segmentation

Personalized Ads

Robust Analytics

A/B Testing

Account Management

and More!
Online shoppers are 20% more likely to act on a message when they've already shown interest in a product or service. This is where retargeting your display ads to those who have searched for similar products or services, or have already visited your site, can result in a much better conversion.
DWMG offers re-targeted display advertising technology that makes your online marketing a more personalized ad experience for customers. We can display ads that are relevant to the individual shopper, showing them products or offers that they would most be interested in purchasing.
DWMG's Retargeting service can reach 98% of the sites on the internet; including Facebook, Google, Yahoo!, and Microsoft. This vast advertising network gives businesses the most opportunities to stay in front of their customers, regardless of where they spend their time online. It's like advertising at the right time to the right person.
We can help you get set up and build a successful online display advertising campaign. DWMG will guide you through the technical and creative process to ensure your campaigns exceed your goals. With the most efficient pricing in the industry, no-minimum spends, and no contracts – we make retargeting an easy and affordable option for any business.